This article was originally posted on The Merkel - with a dedicated cryptocurrency news section and also a variety of educational articles relating to Bitcoin, you can find anything from how to make money with bitcoin to how to create your own cryptocurrency. For more check the link below.
Bitcoin Price Analysis (BTC/USD)
Over the past 24hrs, the price of BTC/USD pair has exhibited a bullish outlook.  The upward rally has been bolstered by the 7 day MA that was seen gravitating above the 21 day MA that indicated a bullish sign.  BTC/USD pair began trading yesterday at $10204.62 and is currently at $10762.47. This shows that BTC has upsurged by 5.2% in the last 24hrs.
The bullish pressure has also been confirmed by the formation of the ascending triangle that was seen on an hourly chart.  The RSI indicator has even climbed up from a low of 36.26 to a high of 50.36 that signaled increase buyouts.
During the last 4hrs, the market seemed to have lacked momentum as reflected by the RSI indicator that was seen trading flat between the level 60 and 40.  According to cryptocurrency analyst, BTC is currently under intense pressure coming from the U.S. governmental hearing of Facebook's new cryptocurrency known as Libra.  
Based on previous data, the price of BTC tends to drop ahead of any congressional hearing that is related to any cryptocurrency and later rise on a favorable outcome.  The conference is going to be held today on 16 July and tomorrow, 17 July.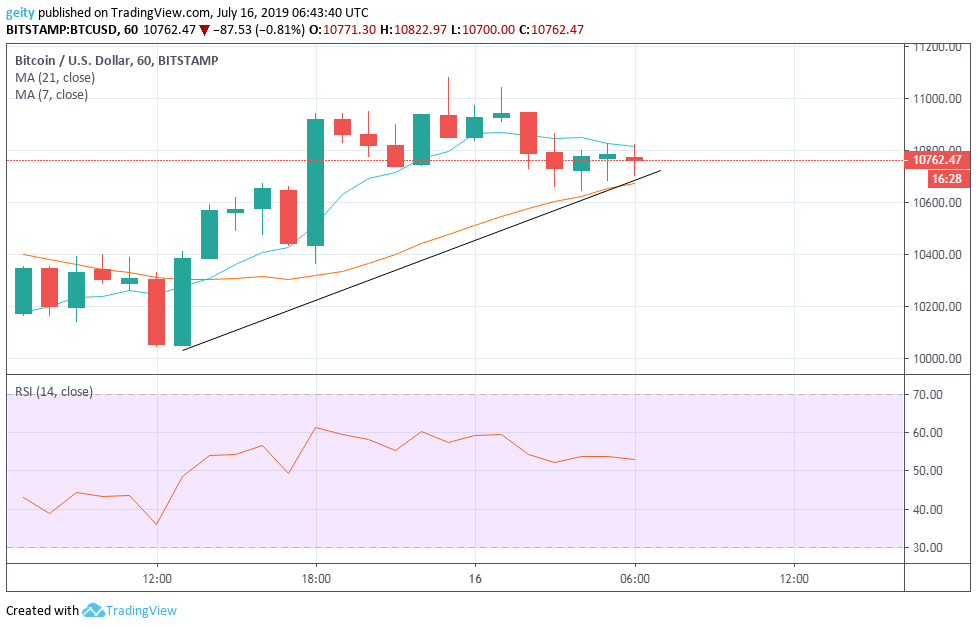 Bitcoin Price Prediction
At the moment, the RSI indicator is heading south that indicated incoming downward pressure.  The moving averages are trending towards the same direction; the 21 day MA is most likely to cross the 7 day MA that is a bearish sign.  New targets should set at $10350.
EOS Price Analysis (EOS/USD)
Unlike BTC, EOS/USD pair has exhibited a bearish outlook over the last 24hrs.  EOS is down by 0.18% having started trading at $4.280336 and is currently at $4.272717.  Despite the downward pressure, EOS/USD pair has been trading in a sideways trend with support level situated at $4.299174, and resistance level is at $4.401869.
The Relative Strength Index indicator was seen hovering in between level 60 and 40 that showed a lack of momentum in the market.  This also showed that either buyers or sellers had the upper hand. Both support and resistance level was tested, and only the support level was broken at several instances that signaled a bearish pressure.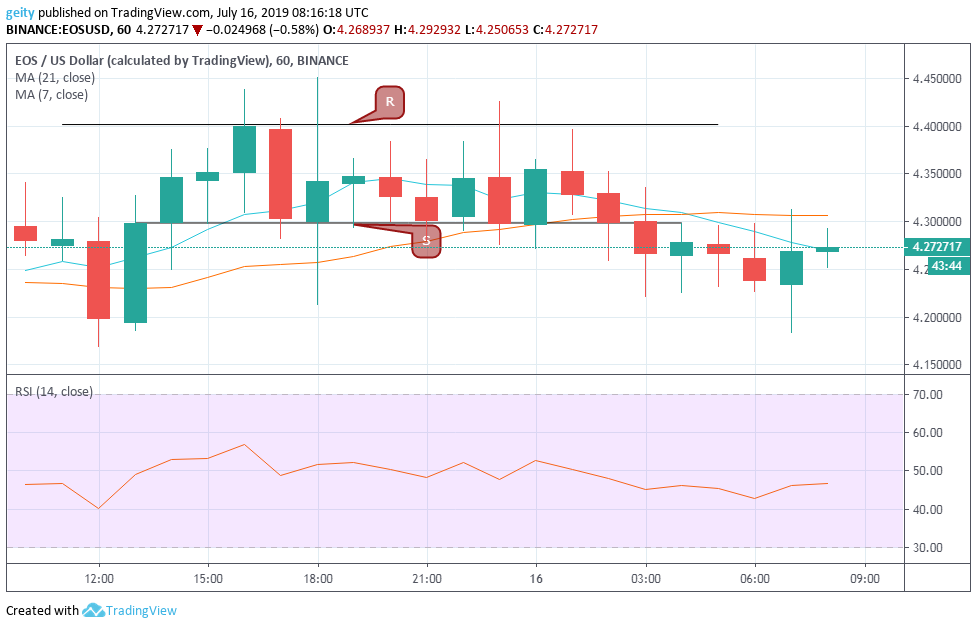 EOS Price Prediction
The 21 day MA is above the 7 day MA currently, that indicates further downtrend is to be encountered in the next few hours.  New targets should be set at $4.2000.
Ripple's XRP Price Analysis (XRP/USD)
Like BTC, XRP/USD has also exhibited an upward price rally.  XRP is up by 0.22% having moved from yesterday's price of $0.3130 to settle at the current rate of $0.3132.  The pair's price has been trading in a sideways trend over the last 24hrs. The horizontal channels confirmed this. 
The horizontal channels also acted as the price critical support level $0.3109 and as the resistance level $0.3198.  The RSI indicator was also seen hovering between level 40 and 60 that indicated indecision in the market momentum. Presence of a Doji candle is repeatedly seen, thus reflecting a high level of uncertainty.  The RSI is currently trading flat indicating a lack of dominance from neither buyers nor sellers.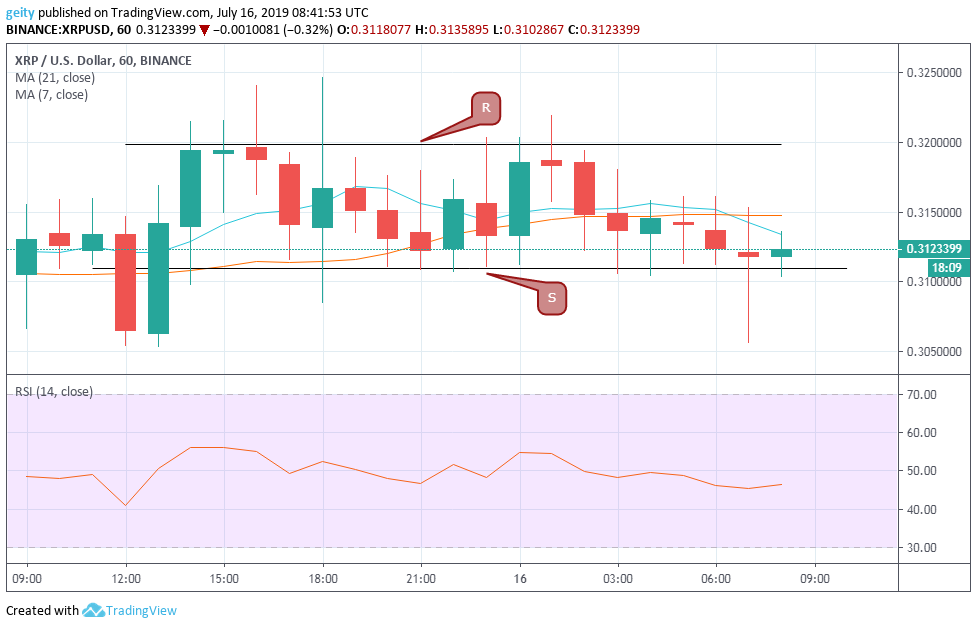 Ripple's XRP Price Prediction
At the press time, the 21 day MA has crossed above the 7 day MA.  This indicates a bearish signal in the coming day. The Support level is likely to be breached.  New targets should be set at $0.3077.
Cryptocurrency Charts By Tradingview
Disclaimer: This is not trading or investment advice. The above article is for entertainment and education purposes only. Please do your own research before purchasing or investing into any cryptocurrency or digital currency.
The post Bitcoin, EOS and Ripple's XRP Price Prediction And Analysis For July 16th appeared first on The Merkle Hash.
To read more from The Merkel follow this link.